What We Offer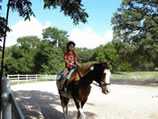 Hidden Creek Ranch offers lessons for both English and Western riding.
Rates are $50/hour for private.
Group lessons are not available. We feel each rider needs one on one attention.
While our primary goal is for riders to have fun, safety is our main concern. Helmets and closed toed shoes are required at all times.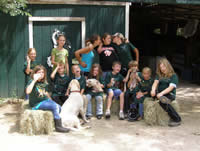 2017 Summer Camp Registration is now available. Spots are filling up fast, so come join in the fun.
Please feel free to contact Jolie with any questions or for more information.
Camp activities vary but include riding, crafts, equine care, games and horse painting.
2017 Camp Information -
Youth Half Day Camps (ages 6-12):
Session 1 - June 5-9, 8:30-12 pm * Session currently full
Session 2 - June 19-23, 8:30-12 pm
Session 3 - July 10-14, 8:30-12 pm
Teen Camp (ages 13+) - late July - is offered for current riding students only. Contact Jolie for registration information.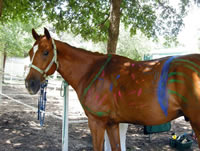 Birthday parties can be booked for up to 8 kids. Parties include riding, grooming and playing with the ponies as well as the other ranch animals.
Cost is $30/hour per child.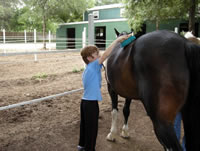 We offer customized workshops to help scouts earn their Equine related badges and training.
Cost varies depending on whether working on Cavalcade, Horse Lover's or other badges.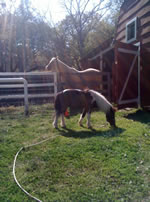 We offer full care board at $450/month. This includes a 12x12 barn stall with a 50 ft. attached run along with periodic turnout.
The horses are fed twice daily. Stalls and automatic waters are cleaned once daily.
Owners are responsible for providing vet and farrier services and any necessary supplements.
Pasture board is not available.
Leasing, when available, is reserved for current students only. Contact Jolie for more information.